Summer is quickly approaching, which means our kids will be back on their bikes soon (if they aren't already)! That's why we sat down with Danae Warmsby, the Regional Manager of Pedalheads Chicagoland and D.C., to chat about summer bike safety for kids. Read on for some great tips on how to get your kids ready to bike safely this summer!
Hi Danae! Thanks so much for speaking with me today about such an important topic. Can you introduce yourself?
I am Danae Warmsby, the Regional Manager of Pedalheads Chicagoland and D.C., and I am so excited to speak with you today! 
The weather is getting nicer, which means it's time for biking season! If your child hasn't been on a bike in a while, what is the best way to get them prepared?
Having your kid involved with checking the bike and helmet to make sure everything fits well and is in good working order is a great way to get the your little one involved and excited about biking again. Not only is it a great opportunity to review some beginner bike maintenance and safety with them, but it also helps get them more familiar and comfortable with their bike again. 
Once everything is good to go, pick a location and time of day that is not super crowded to help them get warmed up and comfortable on the bike again in safe environment. 
There are so many different bike options on the market for children (balance bikes, bikes with training wheels, etc.)! What do you think is the best way for kids to progress? Are there certain ages that you recommend for each type of bike?
For a beginner biker at any age, it is all about what a child will feel most comfortable with and what they are most interested in. Balance bikers are fantastic for kids ages 2 –4 and really help kids master their balance, which can help them avoid training wheels all together. However, some kids, particularly ones 4 and up, progress better on a bike with training wheels to help master the pedal motion and brakes. 
What should parents be looking for in a bike? Are there certain brands that you recommend, or a price point that seems to best?
When picking out a bike for a new rider who is learning to ride independently, it is important they can put both feet flat on the ground as it helps them feel more in control of their bike especially when stopping. Often, a child's instinct will be to put their feet on the ground when braking/stopping, so proper bike fit is crucial for new bikers. A light weight bike is also ideal as it often easier for a little one to manage and navigate. 
Second hand bikes can be great options for kids as they will quickly grow out of their first or second bike! Specialized and Woom bikes are popular brands we see each year at camp, but there is a wide variety of wonderful bike manufacturers that produce great options for kids. The most important thing is the bike is in good working condition and a proper fit for the rider. 
How about helmets, are there certain things that a parent should look for in a helmet for their kids? 
First and foremost, find a helmet that complies with U.S. CPSC Safety Standard for Bicycle Helmets. Second, a helmet with a retention system is fantastic and highly recommended! They are very safe, provide a great fit, and typically last longer than a helmet without them since they can often be adjusted to accommodate growth spurts.
When a bike has been in storage all winter (whether it's a kids bike or adult bike), are there certain things to check for before riding again?
If a bike has been sitting in storage for months, it is always a good idea to do a quick check and light maintenance to it to ensure it is still in good biking condition. Make sure to check for any clearly loose or broken parts, properly inflate the tires, ensure the chain is well lubricated and showing no signs of rust, verify the pedals are securely attached, and the brakes are functioning properly.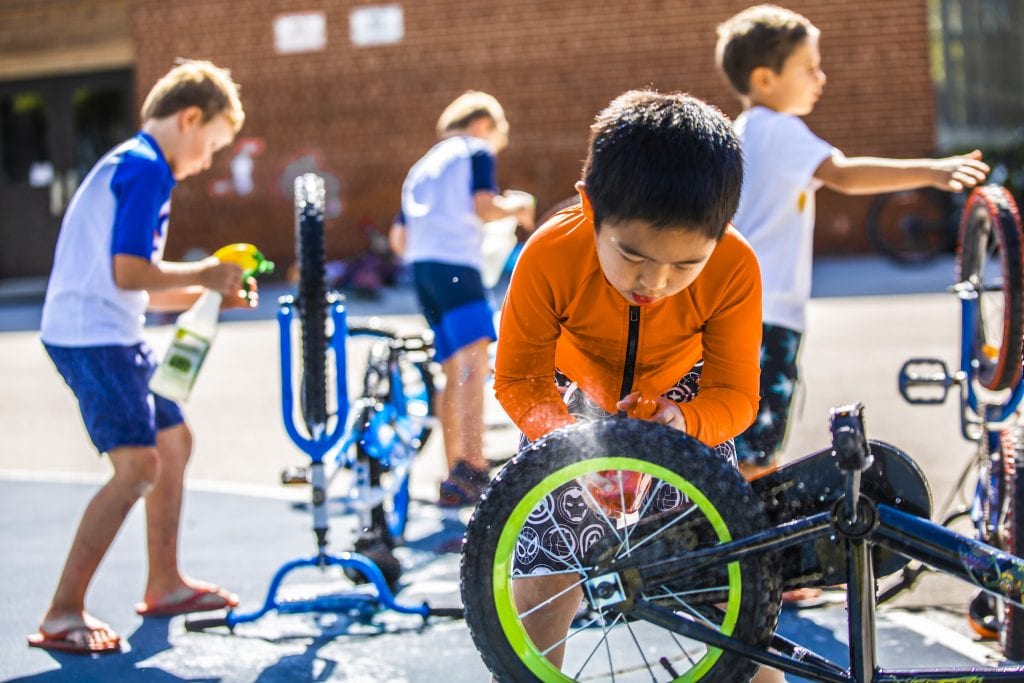 It can be intimidating to allow a child to ride a bike on busy sidewalks (I know that trusting my child to stop when I say so is very hard to do)! Do you have any tips or tricks for teaching bike safety at an early age? 
As often as possible, reminding the little one to look up and even to say out loud what they see can help them understand the unpredictable factors around them. Talking with them about what's around and asking them how they can safely navigate the situation can be really helpful to demonstrate the importance of cautious riding in the city. 
Can you tell us more about Pedalheads camps, and what parents can expect their kids to take away from a week with Pedalheads? 
Pedalheads is a week-long learn-to-ride bike camp for kids 3 and up, best known for helping kids get off of training wheels and start riding on their own. At our camps, we combine a fun group setting with specialized equipment, tailored cycling lessons, and incredible instructors to build confidence and get some of the most tentative kids biking on their own. We also offer advanced bike lessons that focus on road safety in addition to trail riding camps.
What makes Pedalheads unique as compared to other Summer Camp options? 
Pedalheads Bike Camps is unique because we have:
A proven track record over the last 25+ years: Most kids learn to ride within 1 week

Fully trained instructors for beginner and advanced levels

An outdoor activity with more inherent distancing in place and small class sizes 

Specialized equipment and cycling lessons to help kids learn in a safe yet fun environment 

Flexible scheduling with weekly Half-day, All-day, 1.5hr Tots classes, and 1hr private lesson options
As a special bonus, Pedalheads is offering $50 off your 2021 Pedalheads camp registration with the code LPMOMS. This code is good until May 31, 2021 for new registrations only. Cannot be use retroactively towards an existing booking.