Hi Everyone! It's time for Lincoln Park Moms Meet a Mom Monday! This week's Meet a Mom feature is Leila Golding, Lincoln Park mom and owner of Oasis Face Bar Chicago. I recently got to visit Oasis Face Bar for a 30 minute facial treatment, and it was HEAVEN! I was glowing when I left, and continued to see results throughout the week. It truly is an Oasis – especially for busy moms who want to fit in some self-care but don't have hours to spare. We are so lucky to have Leila in the Lincoln Park community, and I'm excited to share our interview with her today!
If you are a local mom that would like to be featured in our "Meet a Mom" series, please send an email to [email protected]
---
---
Hi Leila! Thank you for speaking with us today! Where are you from originally, and what brought you to Chicago?
I am originally from the "mean streets" of Shaker Heights, OH! I received my undergraduate degree in Journalism from Indiana University and was eager to work in advertising in a big city! Chicago was the closest big city to home and a boy may or may not have been involved in the decision.
How many kids do you have and what ages are they?
I have three kids. Our eldest, Ruby, is 16, our well-adjusted middle, Max, is 12, and our princess, Dove, is 4 and 1/2 (she'd kill me if I left out the 1/2)!
You're a Lincoln Park Mom! What are your favorite things to do as a family around the city?
Yes! We love going to the local parks and playgrounds. Wrightwood Park and Oz Park are among our favorites.  We also love to shop and dine. Southport and Armitage are our go-to areas.
How about without the kids? What are your favorite places for "me-time"?
Me-time primarily consists of Midtown Athletic Club and any venue, big or small, to see live music. Plus a monthly Hydrafacial!
What do you love most about raising kids in the city?
That everything is accessible, that we can eat gourmet food (even ice cream) delivered to our door any night of the week, and that we have a giant "backyard!" Our neighbors have become family and there is a different playground every few blocks filled with new people to meet and cultures to explore.
Do you have any favorite local businesses in the neighborhood?
Pyar & Co is a beautiful store filled with so many wonderful treasures everyone would enjoy. It's a shopping destination for sure and smells divine!!
Tell us more about your career journey, and how it led you to open Oasis Face Bar in Lincoln Park?
I have a background in Marketing/Advertising and Influencer MarTech sales. I've worked on national campaigns at some of the biggest brands in Beauty/Fashion. From InStyle and PEOPLE to StyleWatch and Shape. I am a self-proclaimed beauty junky and have loved getting the inside scoop on the latest skincare products and procedures (and who uses them) throughout my career! Looking back, the culmination of experiences I've had throughout my career plus an MBA from Loyola University, has brought me to where I am as an entrepreneur and business owner in the evergreen beauty space. The scale of what I'm doing now is just a lot smaller …. and BIGGER at the same time.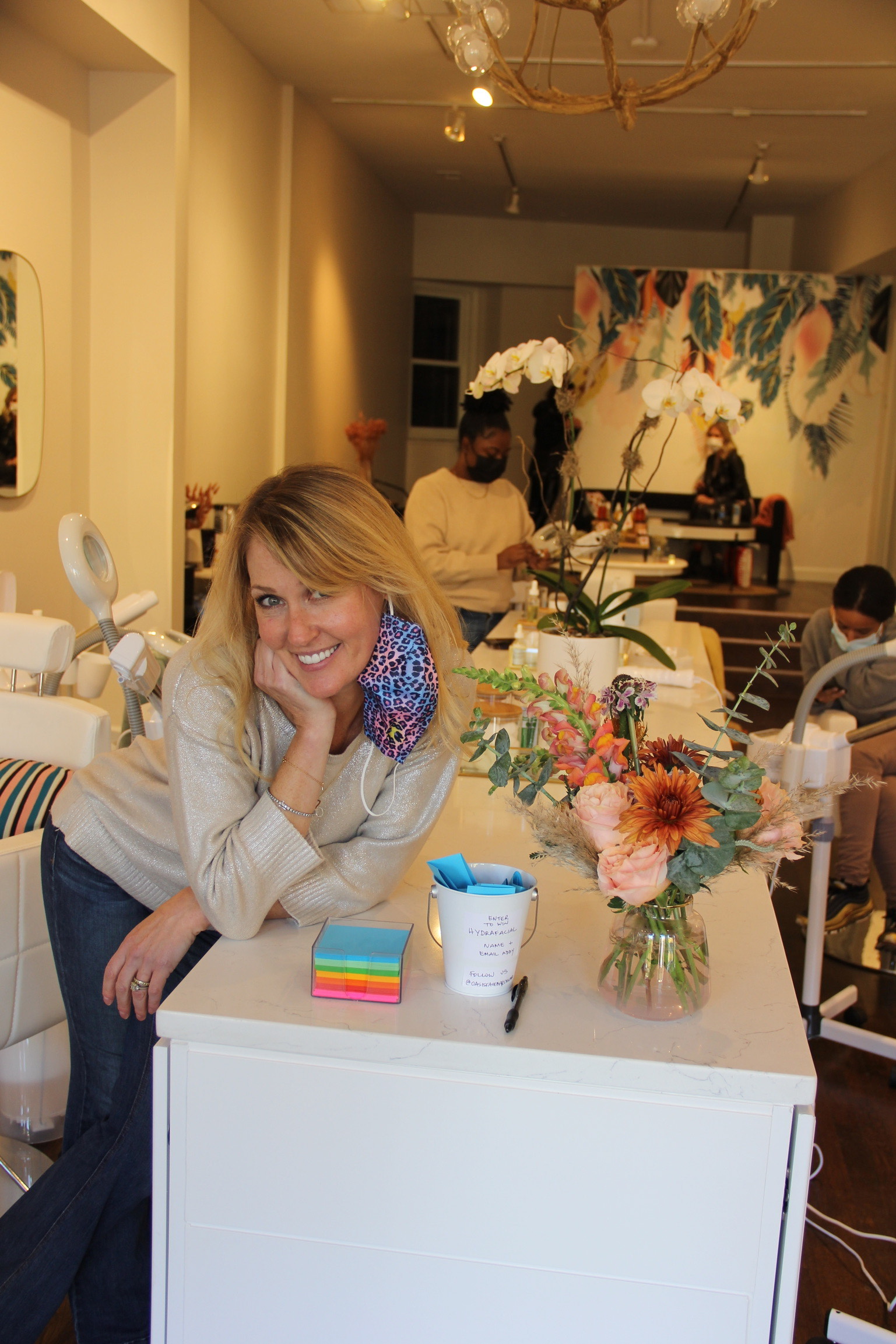 Give us all the details on Oasis Face Bar! What can moms expect from the experience?
Moms can expect the best facial they've ever had without the time commitment or expense! The space is an open concept, lively and pretty! Great for Mom/Kid or Mom's Night Out. We provide results driven, clinically effective and customized 30-minute treatments plus add-ons. Dying to try the Hydrafacial TM? Need a brow tint/wax? We have that covered too. We use all natural products, which you can also purchase in store. My goal is to provide an exceptional experience for glowing, brighter, more youthful looking skin with every single visit.
What is something people would be surprised to learn about you?
I am an identical twin switched at birth!  Ok, not switched at birth, but that would be really surprising, right?
As an entrepreneur I'm sure your days are jam packed! What is a "mom hack" or piece of advice that helps you get through your busy days?
An x-large washing machine
Rapid Fire Round:
When are you most productive? When the kids are at school or sleeping
Favorite cake flavor? Yellow Cake with Chocolate Ganache and raspberry filling
How do you start your day? Cursing. I know affirmations or meditating would be better.
Favorite beauty product? Oasis Face Bar 2% Salicylic Acid Face/Body Wash plus Balancing Toner COMBO.
Summer or Fall? Summer
What advice would you give your younger self? You are in total control of what happens between your two ears. Mindset is Queen.