Hi Everyone! It's time for Lincoln Park Moms Meet a Mom Monday! This week's Meet a Mom feature is Dr. Maria Jones, Lincoln Park mom and orthodontic specialist at Lakeview Smiles! Dr. Jones has had a VERY busy few years – graduating from her SECOND postdoctoral program at UCLA in 2020, welcoming her first child, and relocating to Chicago! Read on to learn more about Dr. Jone's experiences as a new mom, her favorite parts about living in Chicago, and balancing career and motherhood! As a bonus Dr. Jones has shared some fantastic advice with us, on common habits like thumb sucking, pacifiers, and tongue thrusting – as well as early signs of malocclusion in children to keep on our radar.
If you are a local mom that would like to be featured in our "Meet a Mom" series, please send an email to [email protected]
---
---
Hi Dr. Jones! Thank you for speaking with us today! Can you tell us a little more about yourself?
Absolutely! My name is Maria Andreina Jones, I am Venezuelan/American and I moved to Chicago this past summer after living in Santa Monica, California for the past 5 years.
I have one adorable baby boy who just turned one year old. He was born on 10/10/2020 right in the middle of the pandemic. We named him "Rio" which means river in Spanish and we thought it was a beautiful way to honor his Latin-American roots.
What are your favorite things about Chicago so far? Are there any local businesses that you like to frequent? 
I am so in love with Chicago!! Having lived in NYC before and LA, Chicago has turned out to be everything we wanted as a family and more! My absolute favorite part are the people! People in Chicago are genuinely nice, helpful and friendly. I can't say enough nice things about the beautiful encounters we keep having day in and day out.
Local businesses I love are Verve wine + provisions and La Crosta (more on those below). Studio 707 offers awesome haircuts for the entire family and Elliot would come to your place. He has little ones himself and understands that haircuts can be a hectic event. He will make them easy and fun at your own home. For workouts, we love Lakeshore Sports and Fitness. They have a fantastic kids program! You get to workout while the little ones are having fun too.
You became a new mom during a global pandemic which is no easy feat! Can you tell us more about your experience?
I was two months pregnant when the lockdown order started in Los Angeles. I went to every OB appointment by myself and would record a video for my husband to watch when I got to the car because facetime wouldn't work inside of the office. Experiencing becoming a mom for the first time during 2020 was surreal. We had no family with us, no prenatal classes where you get to meet other parents to become friends with, as well as sharing birthdays and playdates. We had our gender reveal and our babyshower on Zoom. It was a lonely time but also a special one for me and my husband to spend time together before our little one arrived.
I also graduated from my second postdoctoral program at UCLA in 2020 (yup, it was a busy, busy year) which translated into hours and hours of virtual classes sitting with my laptop in front of my growing belly. We joke that Rio is halfway through knowing how to be a dentist from listening to all of it. I took 12 hour licensure tests with him in my belly at 37 weeks pregnant and with very strong braxton hicks contractions, but we made it!
Tell us more about your career journey, and how it led you to Lakeview Smiles!
I am an Orthodontist and a digital smile designer. I specialize in facial development and growth modification in children. It is SO important to have an orthodontic consultation for all children no later than age 7 and even before the 7th birthday if there are signs of a developing malocclusion. Having an early consultation doesn't necessarily mean we will start braces early, but it means we can intercept early signs of issues and prevent them from developing altogether. I am passionate about this topic and encourage all parents to take their kids to an orthodontist for regular checkups. What we diagnose and treat goes beyond the teeth, we are talking about their cute little faces, their ability to chew, speak, and function properly. All of the oral functions are tied to the position and harmony between the jaws, muscles, and tissues of the oral cavity. It's really fascinating! As a former professor at UCLA and UC I dedicate a big part of my practice at @Lakeviewsmiles to educate parents and other dentists about these topics.
I also love treating adult patients with invisible orthodontics. I am one of the very few providers who straighten teeth with braces that go behind the teeth, known as lingual braces. This is my favorite way to treat relapses on patients that had orthodontic treatment when they were young but maybe didn't wear their retainers properly and teeth have shifted from their once perfect position. As an adult who required treatment later in life myself, I couldn't envision myself with braces that are visible, so I specifically train in this technique and work with technology to make this experience comfortable and seamless for adults as well through carefully planned Invisalign or ultra low profile lingual braces. Invisible orthodontics is my specialty!
What has your experience been like balancing career and motherhood so far? 
Right now I am a working mom who pumps in between patients to bring breast milk home for my baby. My coworkers and team at work have been extremely supportive and we try to arrange my schedule so I can fit my pumping sessions throughout the day. As an orthodontist, I was very adamant about wanting to breastfeed because of all the benefits that it has for facial and temporomandibular development (the little joints that allow us to open and close our mouths). Do you want to learn a cool fact? Babies' mouths are designed to breastfeed. The buccal fat pads (that gives them those extra special chubby cheeks) are there to prevent the cheeks from collapsing inwards when breastfeeding. The shape and texture of the palate is also anatomically made for the breast to fit and maximize suction. The lack of teeth? Yes! Same reason. And all of that starts to change at 6 months old in preparation for solid foods with the eruption of the first few teeth. The buccal fat pads reduce (although still look cute and rounded) and palate rugae change as well. So, yes! The mouth is pretty amazing and adapts to what we need.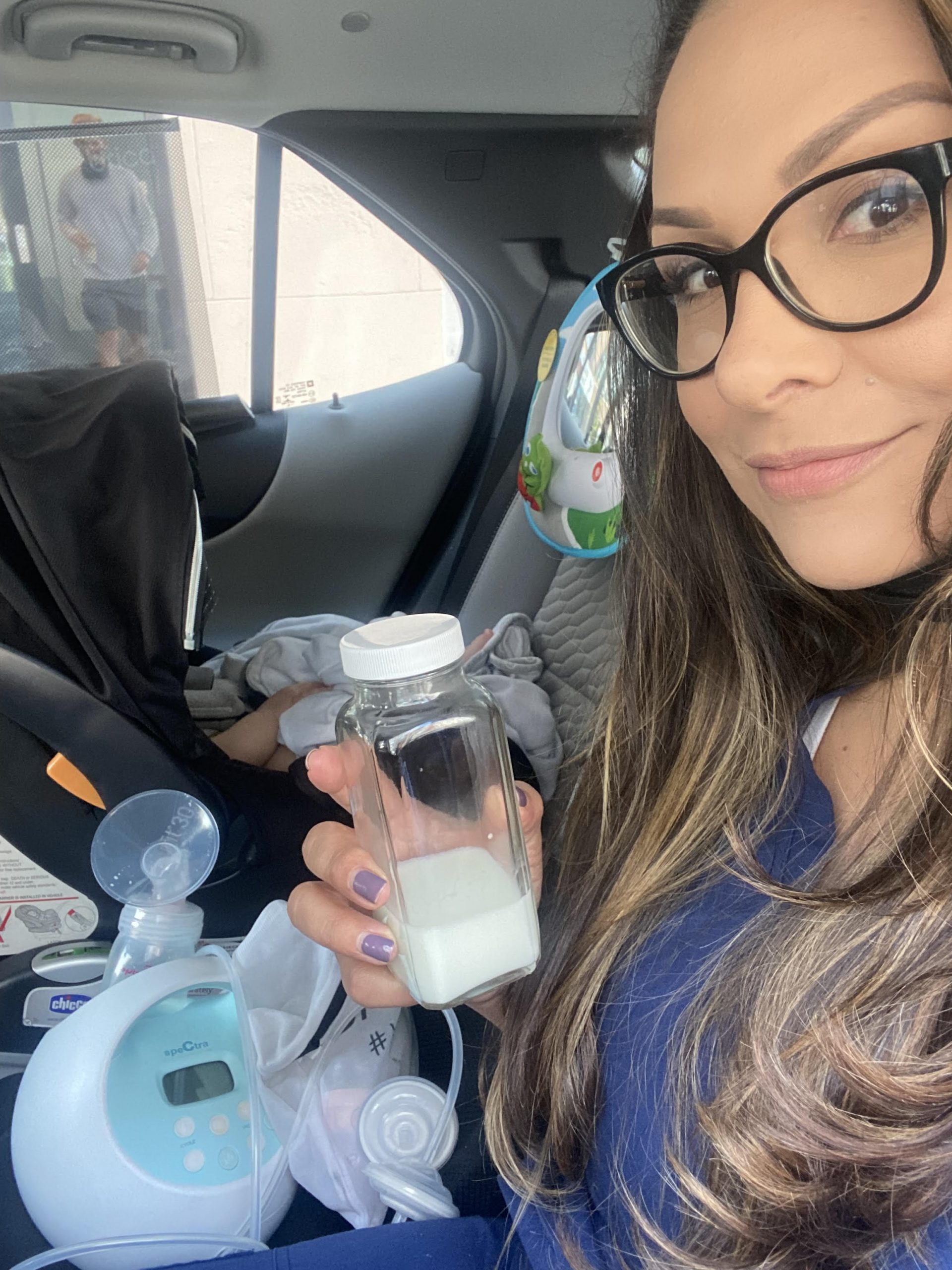 Can you share some more about early malocclusion signs that moms can be on the lookout for? 
Let's dive right in! I want to tell you about the top 6 signs of malocclusion you should be on the lookout for as a parent.
-CROWDED TEETH: If all of the baby teeth are nicely lined up and touching each other (no spaces in between them) chances are adult teeth will be crowded. If you start to see a second row of teeth or "shark teeth" make sure you bring your little one right away as this might affect the permanent teeth and could require treatment to prevent further problems.
-PROTRUSIVE TEETH: Some people call them "buck teeth" or big overbite and that's when the front teeth are really far in front of the bottom teeth and flared out. That dramatically increases the risk of damage to those front teeth and the last thing you want is an afternoon in the playground resulting in fractured teeth leading to trips to the cosmetic dentist for the rest of their lives. It is important to treat them as soon as possible.
-CROSSBITE: a little trickier to watch for but really, really important. The top teeth should bite outside and surround the bottom teeth. Sometimes a single top tooth or multiple top teeth are biting inside of the bottom teeth and this can have implications on the face way beyond the teeth and manifests as an asymmetry of the face or lack of development in one area. Those are typically treated with expanders and expanders work on the growth plate of the upper jaw. On 7-9 years old, it is much easier (and less painful for them) to work on this growth plate than on an 11 or 12 year old. Why? because that growth plate begins to seal and it's easier and faster to modify at an early age.
-OPEN BITE: Not having enough overbite isn't a good thing. Again, is one of the malocclusions that can negatively impact a growing face plus impacts their ability to eat certain foods. This can happen from having a thumb sucking habit or tongue thrusting.
-OBSTRUCTIVE SLEEP APNEA: It is a condition where some of the growth and development of the face can block the tube from which they are breathing, that results in decreased oxygen supply to the child when they are sleeping. With the sophisticated 3D X-rays that we have at Lakeview Smiles, we can diagnose airway blockage very quickly. One of the things that often mimics the symptoms of sleep apnea is ADHD.  It's possible that kids that are diagnosed with ADHD are suffering more of an airway blockage or sleep apnea. Another great reason to get your child evaluated at an early age.
-SOCIAL CONCERNS: Some people's teeth are visibly crooked, and kids may be picked on at school for it, causing issues socially.  Waiting until they are 12 or 13 years old to start orthodontic treatment might result in years of issues with social development and kids being bullied unnecessarily. So if you notice them coming home with complaints of social concerns with their teeth, bring them in and have an orthodontist diagnose what can be done.
How about any advice on common habits like thumb sucking, tongue thrusting, or pacifiers?
Tricky subject but so important to discuss. Pacifiers can lead to malocclusions such as open bite and crossbites but it all depends on: how long they use it for and the suction strength. Babies or toddlers who use a pacifier or suck their thumb in which you can hear the sound they make, might be at a greater risk than those who don't. General guidelines are to try and wean them off the paci or thumb before their second birthday to give an opportunity to their jaws to grow properly and the bite to close. Now, this is usually when the tongue takes over and "seals" the space of the open bite. The tongue is postured forward into the open space between the top and bottom teeth and doesn't allow for spontaneous resolution. Treating a tongue thrust at an early age is much more effective and predictable than it is further on into adolescence.
What is one thing everyone would be surprised to learn about you?
I became a dentist when I was only 23 years old. Since then I have completed 6 and a half of additional years of postdoctoral training. In 2020 I became the UCLA Golden Eagle Award recipient, an award that is only given to one postdoctoral student at UCLA School of Dentistry and I felt very proud to have been recognized by my professors for my clinical performance, patient care, knowledge and innovation. I was also pregnant at the time which made it extra emotional and exciting to have done it with my baby Rio kicks and all, I cried for about an hour non-stop. The hormones! Oh the hormones! My husband made a video and shows it to me from time to time and we both laugh very hard. Super exciting and super funny too, seeing me being a total mess.
Rapid Fire Round:
What do you miss the most about California? Well.. the perfect weather all year round is hard to beat. Also I loved the numerous hiking trails! Runyon Canyon is my favorite.
What do you miss the least? The traffic! lol Driving 9 miles can take you over an hour. I'm happy to do without that.
Favorite movie? "About time" is the first one that came to mind! Please watch it if you haven't. It's on Netflix. You will cry but also will love life even more. It is a romantic comedy with an odd premise that will take you on a ride and I guarantee you'll love it,
What's your go-to snack? Bad example here: chocolate and cookies in all forms. I have a huge sweet tooth and can't deny it.
Favorite restaurant? Verve Wine + Provisions is a favorite! Fantastic wine recommendations and pairings, the entire staff is very friendly and knowledgeable. The chef does a seasonal/European inspired menu that offers ingredients locally grown within a 50 miles radius. This is Dr. Lee's (owner of Lakeview Smiles) and my favorite spot for mom's night out! I also love La Crosta for a casual Italian pizza dinner. Their margarita, caesar salad and nutella pie are must-tries.
Best way to relax? A good Yoga session works wonders for me. The combination of stretching and moving your body to relaxing music and deep breaths. I feel this should be prescribed to people as part of their weekly regimen for overall wellness. I am no yogi myself, not super bendy and that's the beauty of it. You don't have to show up perfectly, you just need to show up, tune into your body and give it your all.