We've rounded up the most amazing Mother's Day gifts from all of your favorite local businesses! Use this guide to shop for all of the mothers in your life, and be sure to send along to your own family so that they can shop for you 🙂 Happy Mother's Day to all of you amazing moms!
I'm so in love with this sweater – customized with all of your kids names! This would also be the perfect gift for a grandmother, I know my mom would LOVE a sweater like this with all of her grandchildren's names close to her heart. Stitch Monograms is run by a local Chicago mom! Be sure to also check out the adorable hats and totes.
Foxtrot has so many amazing curated gift boxes, I'd be THRILLED to get any of these! My favorite is the "Mother Day Getaway", an Italian-themed gift box of handmade gnocchetti, small batch olive oil, and some European-inspired pairings for a sublime Mother's Day dinner. All of the boxes are available for local delivery, and the boxes without alcohol are available for national delivery (perfect if your mom lives out of town)!
Other boxes include:
Mamma's Sauvy B – $50: Mamma's own moment of seasonal Sauvy B, a complementing bar of chocolate, and a self-care duo to tie the mood together. 
Mother's Day Brunch – $75: A brunch'able gift box for Mom featuring some mini Moët, a mood-setting candle, and brunch-friendly sweets.
Mom's Coffee – $35: A gentle wakeup call for Mom featuring the house blend, a custom mug, and a coffee-friendly treat
I'm in love with the coordinating family hats from Chicago based Rey To Z! For my mom's mother's day gift this year, I sent a "G" letter hat with "Gigi" on the back (her Grandmom name), and I know she is going to LOVE it. I'm definitely ordering a set of family hats for my little ones once baby #3 arrives this summer so that we can all coordinate.
One of my FAVORITE annual traditions is doing a Mother's Day Tea at Vanille Patisserie with my Mom, sister, and daughter! Unfortunately we won't be able to make it happen in-person this year, but luckily Vanille is offering Afternoon Tea To-Go, the perfect Mother's Day treat! In addition to the Afternoon Tea, they also have an amazing looking brunch option with lots of sweets & savories. If you are just looking for something sweet, they of course have gorgeous cakes, macarons, and cookies as well. 
Goddess and the Baker has so many adorable Mother's Day options, but my favorite is definitely the "Blooms and Blooms" box, with one Flowers for Dreams mini bouquet and 2 flower pot cupcakes. They also have many other curated gift boxes, DIY cookie kits, and more!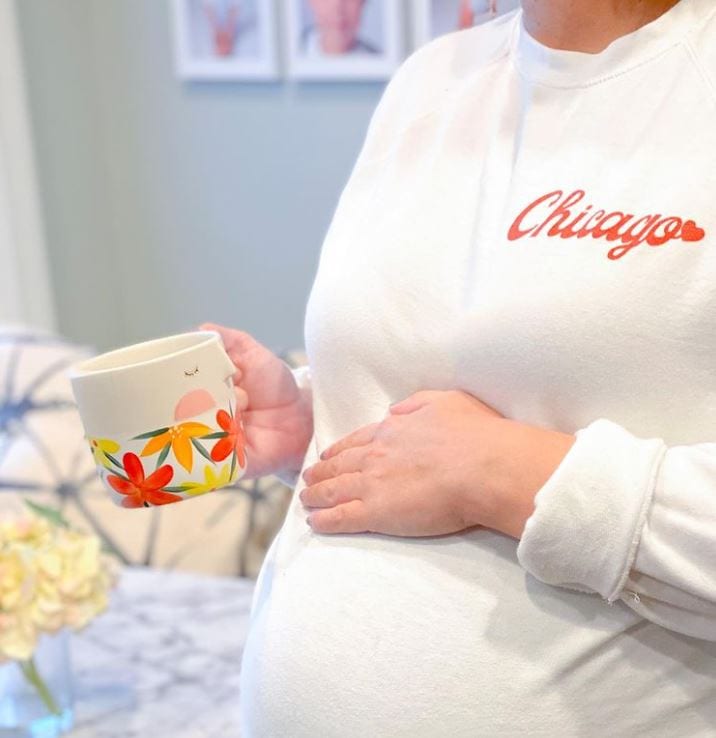 Chicago-mama founded State of Play Kids has the sweetest clothing for every Chicago mom, with options for the kids to match as well! The Chicago Love Crew would be the perfect Mother's Day gift. Be sure to include matching shirts for all of the littles in your family.
Love, Sugar & Grace is pairing with Christine Janda Design & Events to offer a gorgeous floral bouquet and Mother's Day Dessert box (all for under $100)! The Mother's Day Dessert Box includes a Petite Lace Cake, variety of scones (blueberry and cheddar chive), mini chocolate chip cookies, strawberry jam, and a fork & knife set – all packaged in a gorgeous silver gift box. Purchases can be made at lovesugarandgrace.com beginning Monday, April 26th. Curbside pickup and local deliveries are available on 5/8 and 5/9. 
I will definitely be stopping by Monograms on Webster to place an order for these perfect summer pjs! I love the pink gingham, which will look especially adorable with a monogram. Monograms on Webster also has a ton of other monogram-able Mother's Day gift options, including jewelry, purses, totes, towels, and so much more.
A Little Frosting Bakeshop is doing a Mother's Day Comfort Box, with delivery throughout Chicagoland and some suburbs! I am placing my order today and treating myself to this, because everything included sounds absolutely delicious. The Mother's Day Comfort Box includes hummingbird cupcakes with cream cheese frosting, strawberry rhubarb poptarts, mini chocolate eclairs, and lemon mousse with a champagne berry compote. Since it's Mother's Day, the jury is still out on if I'll be sharing 🙂 
Sugargoat by Stephanie Izard has a new Cupcakes and Cocktails club, and you know if I weren't pregnant I'd be signing up for this! When you subscribe to the Sugargoat Cupcakes & Cocktails Club, you'll enjoy a rotating selection of a four-pack of cupcakes and two cocktails. I can't think of anything better!
If you're looking to do a little brick & mortar shopping, look no further than Alice & Wonder on Webster Avenue. You won't be able to leave empty handed! For Mother's Day, I really love this Mama bracelet. They will also be releasing their "Hey Mama" collection with adorable Mama sweatshirts and t-shirts on April 23rd, with a percentage of proceeds going to Every Mother Counts.