If your kiddos are anything like mine, they are "bored" and burnt out on just about every activity, class and craft that we've done over the last two months.  In attempt to shake things up a little this weekend, I've put together a few ideas that can be fun for the whole family (& that don't require much prep or supplies!).
Camp at Home!
Bust out out the tent or even throw together your own with a few blankets, for a camping adventure in your living room!  We made a little fire out of old grocery bags and colored flames and you can even add your favorite variation of at home s'mores- boom!  You've got a fun, cozy night in!  Tip- for S'mores, we like to mix popcorn, chocolate chips, mini marshmallows and raisins, OR Summer House Santa Monica usually has bars or cookies if you don't feel like making anything!
Order a Pizza Kit!
Turn your kitchen & table into a restaurant!  We've done this from both Homeslice and Frasca, and both were fantastic.  My boys loved setting up the table like an Italian bistro, making our meal and serving it!
Create a Theater Experience!
Scoob was released today and it's suppose to rain Sunday- which is the perfect time to create a home theater experience!  Have your kiddos draw out tickets for the family, put together a seating area and act as ushers.  Gather your favorite snacks, dim the lights, and enjoy (or zone out and relax in your case, as I doubt Scoob is your movie of choice, lol)!
Visit a Parking Garage!
Yes, a parking garage… stay with me!  One of the last rainy days we drove to a big, empty parking garage near Millennium Park with snacks, boards and scooters.  The kids basically had their own skate park- and it was kind of amazing.
Find that Disney Magic at Home!
DisneyNow and Disney+, along with a million other videos from bloggers on YouTube have ride-throughs, parades, and fireworks galore.  We moved a spring break trip to SoCal with a stop at Disneyland to this August… When I mentioned that I'll most likely be moving it further out again, my kids were crushed.  So we indulged in quite a few fun videos while creating maps of Disney & favorite attractions while we watched.  It scratches the itch and they truly had a "magical" time talking about what they look forward to when we can go again.
Visit Grant Park- in the "off season"!
Grant Park is one of those places that we really only go for events.  Music in the park, Lollapalooza, food and art festivals- you feel me.  Once warm weather hits there is usually so much going on in the Northside neighborhoods that we don't go "downtown" often!  Well we needed a change in scenery last weekend, so we packed a bag and spent the day.  Let me tell you- it was amazing!  The entire area was so much quieter than my neighborhood, and the fact that you can see the lake makes every day better.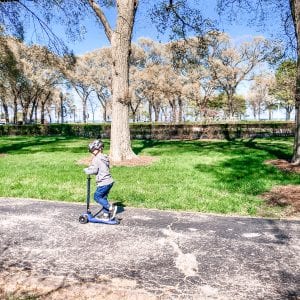 I hope a few of these ideas get you through the weekend!  The more we keep sharing ideas with each other and continuing to spread positive vibes, the more manageable it will be.  I've hit more than a few rough days and this amazing parenting community keeps me going!  Happy FriYAY ya'll, enjoy the weekend!
XO